Last week, I received some very AWESOME news.
I'm so excited to share that I've been recently included in Diet-To-Go's 2016 list of Top 100 Weight Loss Blogs!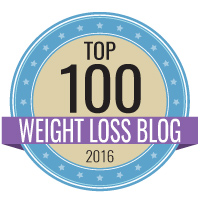 I'm humbled and super honored to be a part of this GREAT group of bloggers sharing their journeys of weight loss, health, and self love.

I'm listed at spot #15. Check out the entire list here!

It's been incredible to join the weight loss world via my blog and social media these last few years. The community, as a whole, is just so inspiring and supportive. It's without a date been a tremendous part of my weight loss motivation and still continues to be as I continue my journey!
Everyone is capable of making change in their life. Living the life you love and working toward the best version of you inspires all of us. The ability to share those stories only helps us build this positive momentum in our lives.

We continue moving forward and the biggest secret to success is support!

& as always thank you to all of my readers and followers. Your support along the way is priceless and means the world to me.